AGGRAVA'TION, n.

1. The act of making worse, used of evils, natural or moral; the act of increasing severity or hainousness; addition to that which is evil or improper; as, an aggravation of pain or grief.

(informal) Aggravation (also Br and Aus slang aggro) can also be used to mean trouble or difficulty.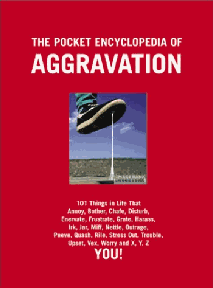 From airline food, bagpipes and Barney to soggy cereal, telemarketers and warts, here is the first A-to-Z, illustrated compendium of everyday annoyances-complete with truly informative scientific explanations and wry commentary.

When it comes to aggravation, it's the little things that count. Car alarms, fingernails on a blackboard, funky word-wrap, having a song stuck in your head, cookie mush at the bottom of your coffee cup, mosquitoes, mimes, chain letters-and those silly curtains between First Class and Coach, what are those about?

THE POCKET ENCYCLOPEDIA OF AGGRAVATION is a unique tour through the things that drive us crazy, full of fascinating details about their inner workings, causes, remedies and histories. Deadpan cross-sections, diagrams and technical drawings bring such things to life as and the sound waves created by nails on a chalkboard or crinkly candy wrappers.
Take the Aggravation Survey!
What Do Others Find Most Annoying? Find out Here!
Win A MILLION Dollars!! Click Here to Play!

Synonyms for Aggravation:
1. exacerbation, worsening, deterioration, intensification, heightening, deepening, magnification, augmentation, enhancement, exaggeration
2 annoyance
exasperation, irritation, vexation, provocation, anger
3 nuisance
bother, trouble, victimization, bullying, harassment, hassle (Inf), spot of bother (Inf), aggro (Inf), seeing to (Inf)